2017 sale will close starting at 6:00 PM Friday March 31st.
Check back for pictures and updates here and on our Cool Rock Stock facebook.
Register at Bids@coolrockstock.com for buyer number or text to 302-242-8894
No buyer premium and accepting payment through cash at pick up or payment prior to delivery or pick up through pay-pal.
Bids will be updated few times a day. Be sure to hit refresh to get most current bids.
All bids will be by email or phone till 6:00 PM March 31st, At that point we will call the top three bidders and have a bid off over the phone.
We will start with highest price pig and work to lowest.
Please be ready will only make two attempts on call.
Please be sure the phone number you have given us is the number you want called as lots close Friday tonight. We will start promptly as possible after the last bids have been recorded that we received prior to 6 PM. Please be sure to bid on any lots you would like to receive call on prior to 6. When the auction closes if you win the bid off you can not then get in on pigs you have not bid on. You may only get in on lower pigs upon losing the bid off.
NEW THIS YEAR WE WILL ONLY CALL THE TOP THREE BIDDERS (TOP TWO CONTENDING BIDDER AND HIGH BIDDER) ON EACH LOT.
We have a great set of crossbred pigs to offer this year. These pigs are right on target for covering the minimum weight requirements for tagging day and State Fair weigh in while still not going over on weigh in day. According to the DE state Fair Website all pigs will need to be 75 pounds by May 6th and or 85 pounds by May 27th in order to be tagged and eligible to attend the DE State Fair. Barrows and crossbred gilts under 200 or over 300 were sent home or to market last year and we assume that is the plan for this year as well. If you are uncertain about how much pigs will gain early on and would like more information refer to this link. http://extension.usu.edu/cache/files/uploads/Project_Pig_Planner.pdf

100% of these girls have been raised -bred-farrowed here at Cook Family Farms from our top 2014-2016 show animals. They all have earned Junior Livestock Auction Honors, Blue Ribbons, or Champion Status at some point of their show career and were 100% AI bred from Purple Power Boar Stud. We picked out sire we thought would work well and mostly ones that had a proven track record of producing winners!
To schedule viewing appointment email us at BIDS@COOLROCKSTOCK.COM OR Call 302-242-8894
Barn will be open 10 am to 4 pm and later if you plan on driving a distance and are taking pigs immediately after close on March 31st for visual inspection of these pigs prior to sale closing.

WILL BE SELLING THE TOP 20 ONLINE THROUGH PHONE, EMAIL BID WITH ALL LOTS STARTING TO CLOSE AT 6:00pm Friday March 31st. THE HIGHEST DOLLAR AMOUNT LOT WILL BE CLOSED FIRST FOLLOWED BY LOTS OF LESSER AMOUNTS. YOU MUST BE HIGH BID OR TO TWO CONTENDING BIDDERS ON THE LOT IN ORDER TO BE CALLED FOR CLOSING BIDS. IF YOU ARE OUTBID THROUGH CLOSING ON A LOT YOU WILL HAVE THE OPTION TO BID ON ANY REMAINING LOTS.
ALL BIDS WILL BE IN INCREMENTS OF $25.00. AND WILL START AT $150.00
IF YOU WOULD LIKE TO REGISTER FOR A BIDDING NUMBER PLEASE EMAIL YOUR NAME, ADDRESS, AND CONTACT NUMBER TO BIDS@COOLROCKSTOCK.COM. WE ALSO CAN ANSWER ANY QUESTIONS YOU MAY HAVE ON THE BIDDING PROCESS THROUGH THIS EMAIL OR BY CALLING 302-242-8894.
THESE PIGS ARE STILL YOUNG, NOTHING HAS BEEN CLIPPED (hair) OR KEPT IN HEATED BARN. THEY HAVE BEEN WORMED/VACCINATED/CASTRATED AND WILL BE READY TO LEAVE April 2nd & MUST BE PICKED UP BY April 7TH.
DELIVERY IS AVAILABLE AT THE EXPENSE OF THE BUYER.
NO BUYERS PREMIUM OR HIDDEN FEES
THERE WILL BE ABOUT 5-7 PIGS PRICED IN THE BARN THAT DID NOT MAKE THE SIFT. BUYERS FROM AUCTION WILL HAVE FIRST PICKS ON GETTING ADDITIONAL PIGS AT PICK UP.
Folks, let me tell you a story....... Feed, time spent walking & working on showmanship, feed (again), and environment you raise these pigs in will be the determining factor on where they end up on show day. Genetically they cover some of the best lines available and come from parents that are all proven winners. We want everyone to have a great show year with these pigs and are willing to help in anyway we can from sharing feeding strategies, to offering showmanship techniques or lessons.
Our success is based around your success!

Litter one and two our out of last years mountain time babies that go back to a pig we call "Dads Pick"
She is a Far Out x Gone Viral x Split Second and has been a solid generator of pigs for us producing last years Champion Crossbred Boar and gilt. She is the dam of our 4 litter that make up last few lots of this sale they are bred to time tested Artic Blast from Purple Power Boar Stud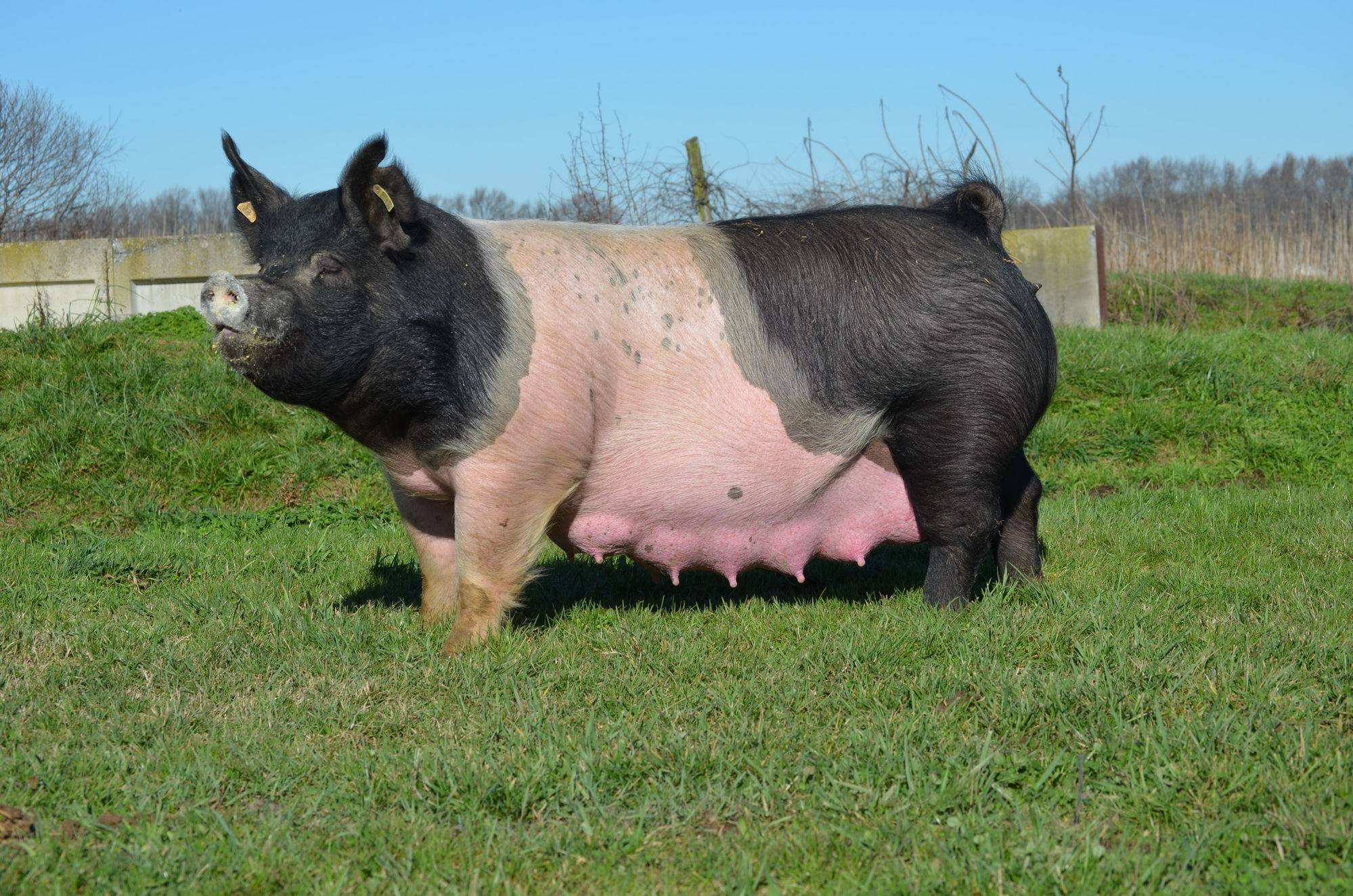 __________________________________________________________________________________________________________________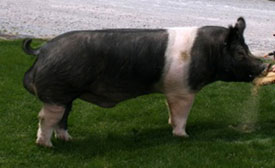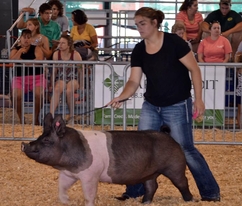 Sweet Emotions x Champion Crossbred Gilt
Lot 1: 1-1 Jan 24th 37Lbs
Starting this years sale off with offspring from the 2016 Grand Champion Crossbred Gilt at the Delaware State Fair who is a daughter of Mountain time out of Dad's Pick pictured above. For those of you looking to breed a few in the future this line has always gotten it done for us both in the ring and the crate. Bid with confidence on this gal as she lives up to her grandma's name as "Dad's Pick" Long and extended through her neck, tall shouldered, elegant, up headed female who will surely find a pen to match her lot, litter, and notch number. Could jackpot as a Hampshire. Litter 1 and 2 are sire by Sweet Emotions from Purple Power pictured above who is also a time tested generator of functional and sound show pigs. Come take a look and take your pick, this entire sale is stacked with top quality pigs.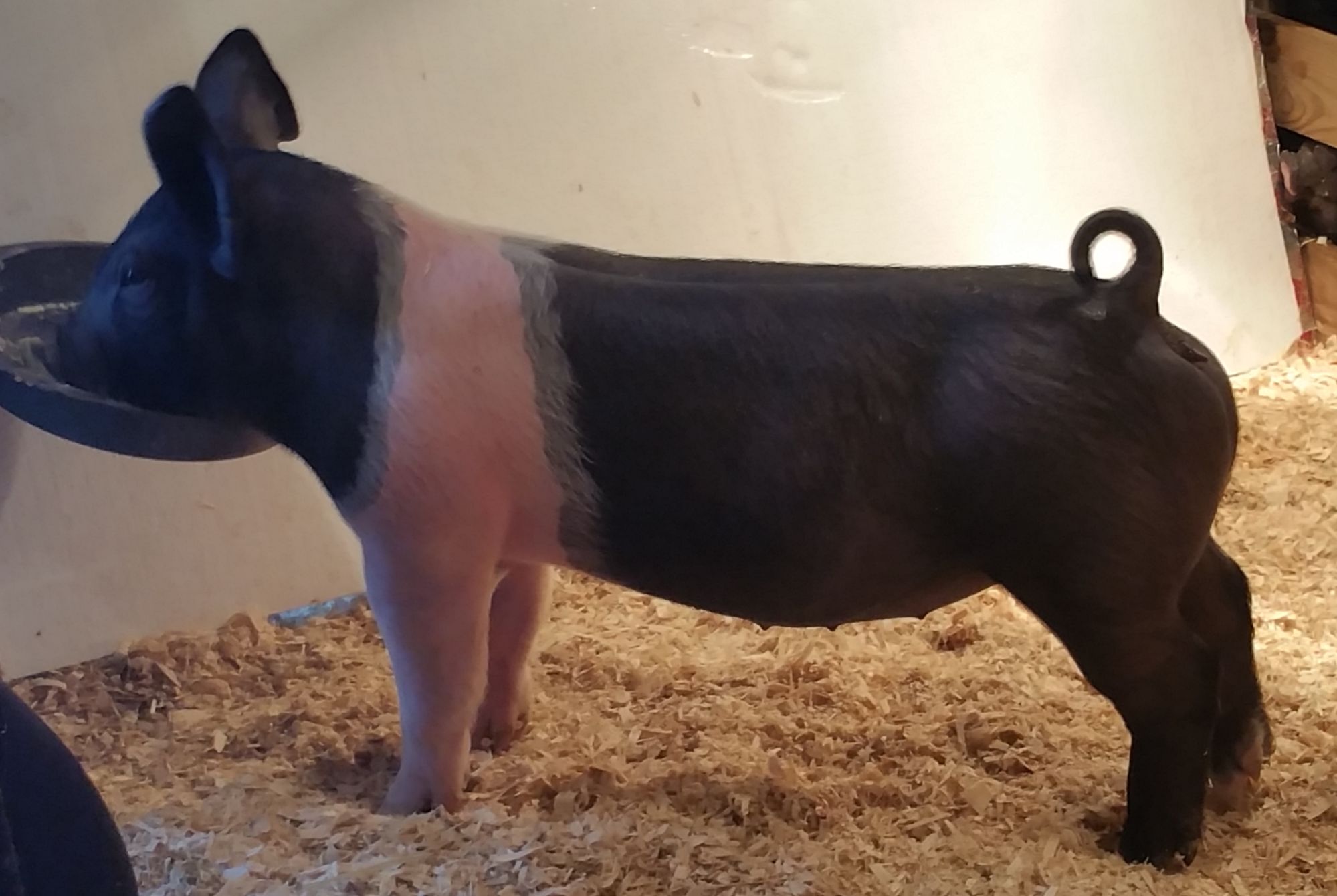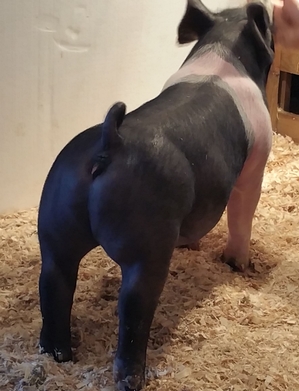 ---
Lot 2 1-2 Gilt
Talk about eye catcher! This gilt here since going on feed has been a crowd favorite with the extra cool head and neck and neat markings over her top. Moves out as sound as any and has the frame to be a real monster as she puts on the pounds. All of these litters are sticking with the trend of clean fronted, fronted tall shouldered, and square based. All you need to do is feed them to your desired outcome.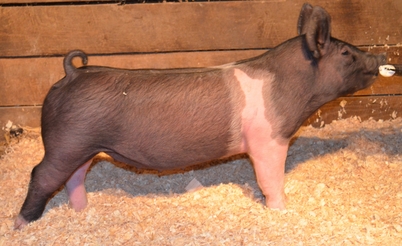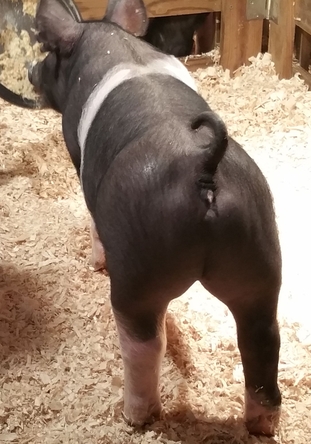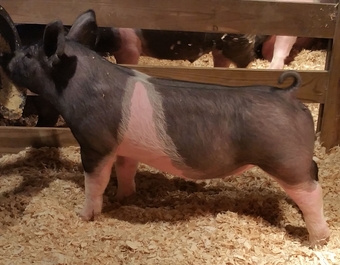 Lot 3 1-3
Another stout made one from last years grand champion sired by Sweet Emotions. This one gets better every day. Slightly smaller then her sister that we started the sale with but has that market hog look that will surely not be missed. Square to the ground, deep grooved, and big ribbed. Looks great from all views and has gotten better every day since this picture was taken couple weeks ago. Going to be a great summer if you have any of these on your team.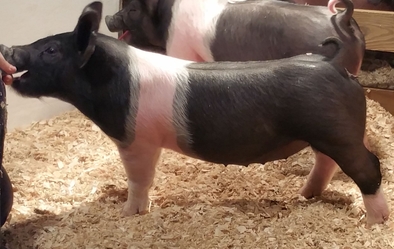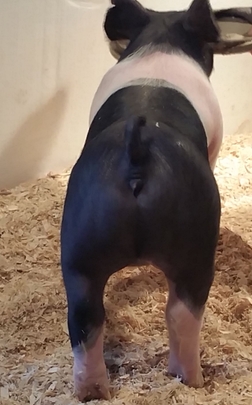 ---
Lot 4 1-4
Litter 1 gilts are all similar in their length,extension, and overall make up. Any of them are going to just need feed, a showman or woman, and a wall to hang the banner on. Any one of these gilts could easily go into our keeper pen if we were not planning on keeping their mother as after she delivered with no assistance in her first litter. Sweet emotions was around for years past most boars that go into stud because of his consistent production and success. Don't miss out on this opportunity to get some of the last gilts he produced from an awesome sow family. Genetic opportunity to get a great one to show and put into your breeding program for next year. Come see for yourself.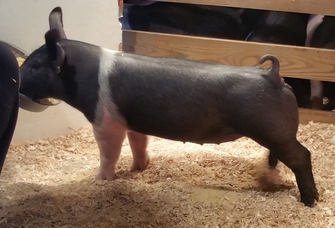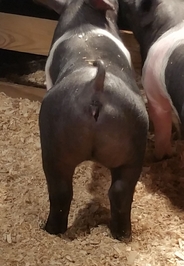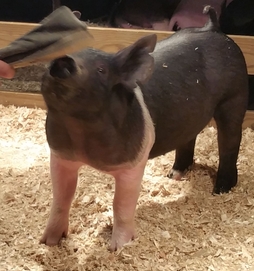 _____________________________________________________________________________________
Lot 5 1-5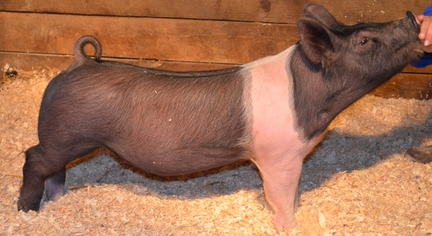 _________________________________________________________________________________________________
Lot 6 1-6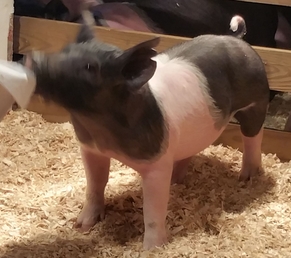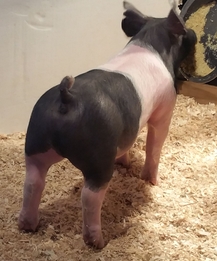 Lot 7 1-8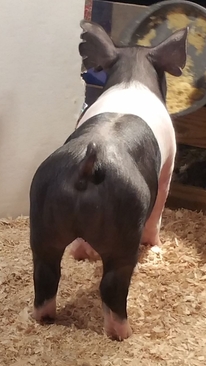 ---
Lot 2-7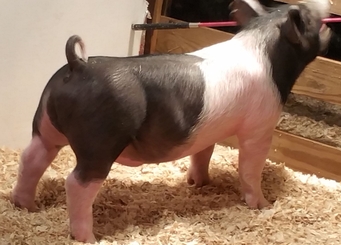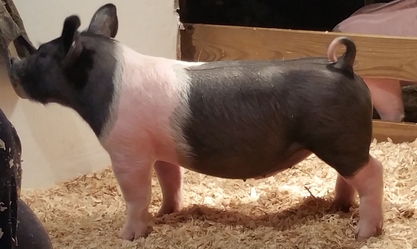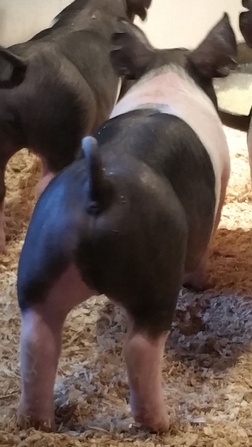 ---
_____________________________________________________________________________________________________
Lot 2-1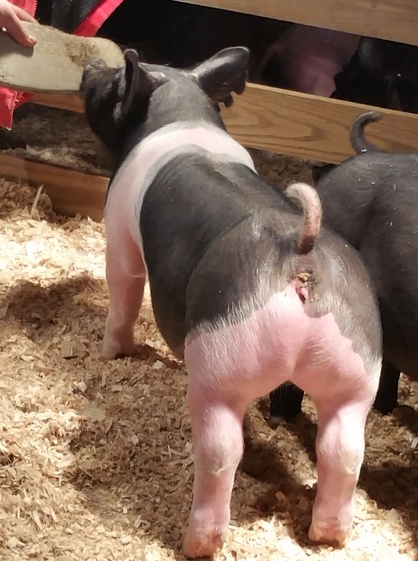 ---
Lot 2-11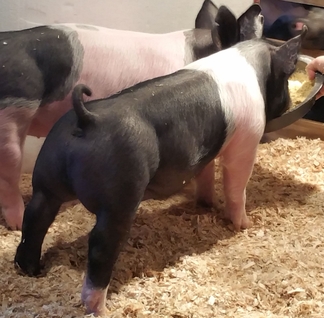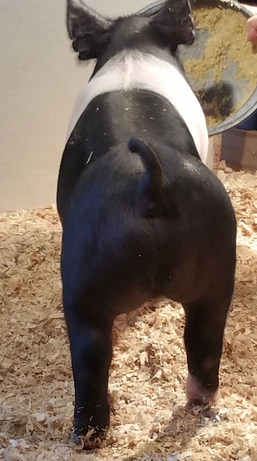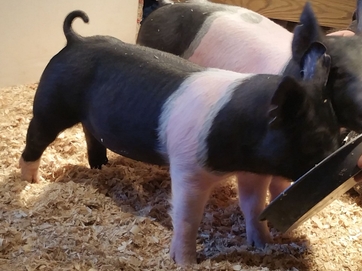 ---
Lot 3-1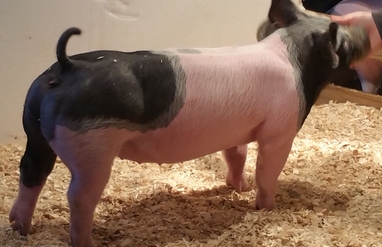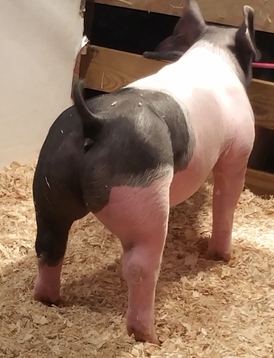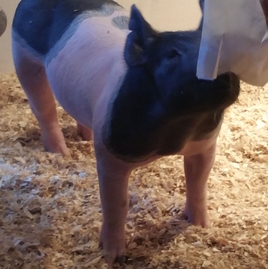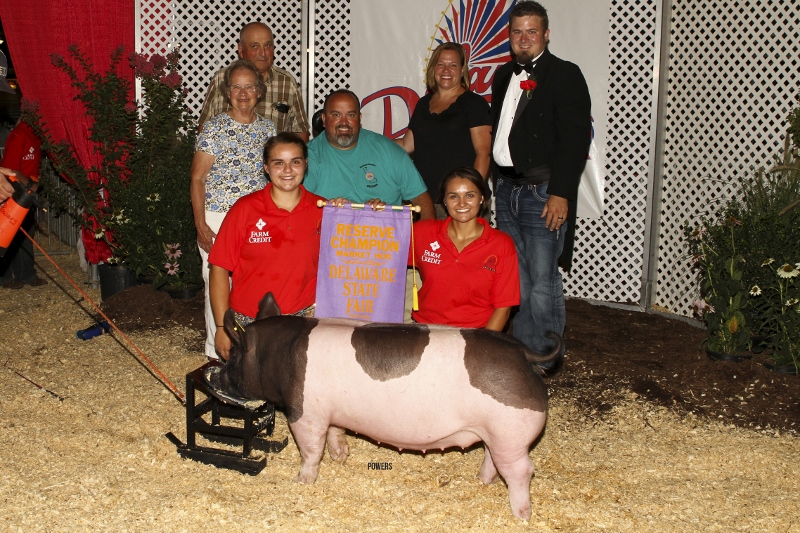 ---
3-2 Barrow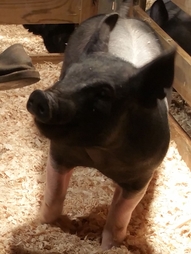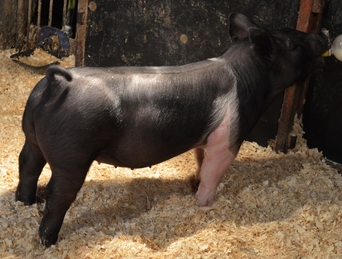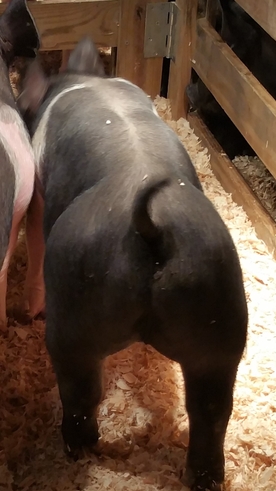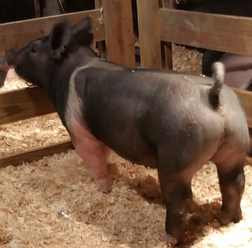 ---
---
Lot
2-3 Gilt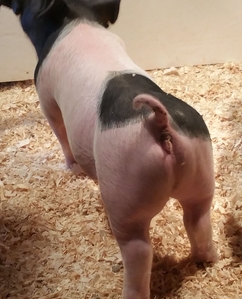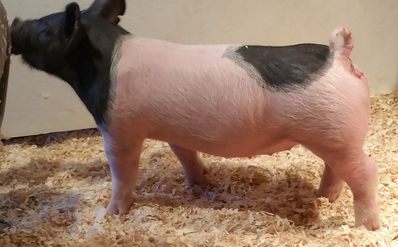 ---
Lot 2-10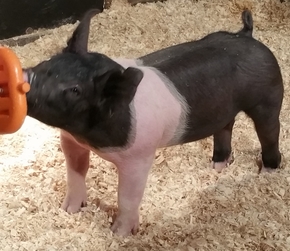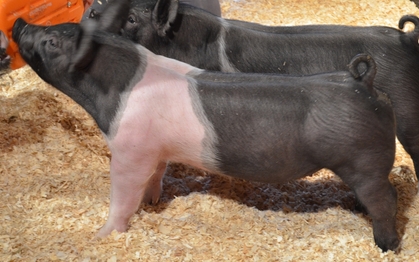 ---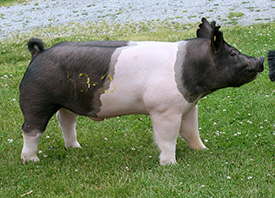 Lot
2-2 Gilt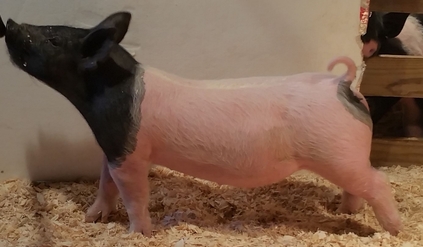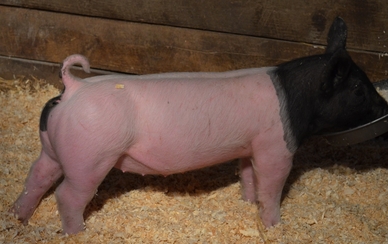 ---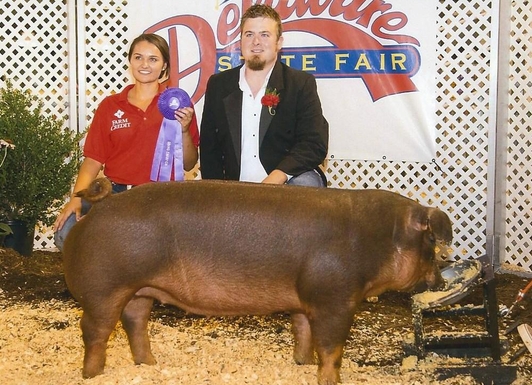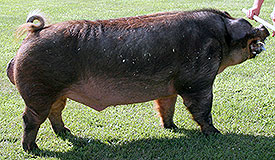 Grand Champion at 2015 DSF Without a Doubt (Cains) x Red Barron (PSSS)
Have a March Litter of Durocs from this girl by left behind at Lean Value. To young to say how good they will be but there will be barrows for sale late April. No Gilts
Lot 14
---
Lot 15
---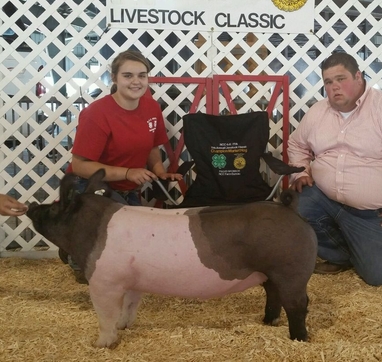 Lot 4-1 Gilt
These litter 4 pigs are a little younger be born 2-4-17 but they are from the Queen of the farm and sired by Artic Blast.
Last years litter from mountain time created the mother of litter 1 and 2 last year on top of the Grand Champion Cross Boar. She produced the Grand Champion Market hog at the Kent County show along with numerous other first place finishes in multiple states.
This 4-1 gilt is going to be much like her mother. Moderate in size and wide as a truck coming and going. Artic Blast added some bone and mass as compared to last years Mountain times and though they are smaller then the others in the sale they are they are going to be right on for late July to mid August Fairs.
T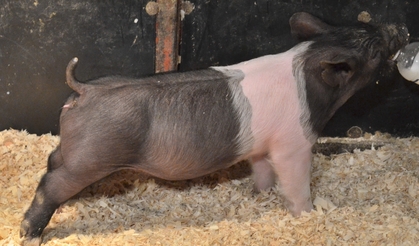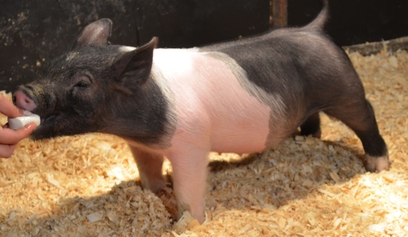 ---
Lot 17
---
Lot 18
---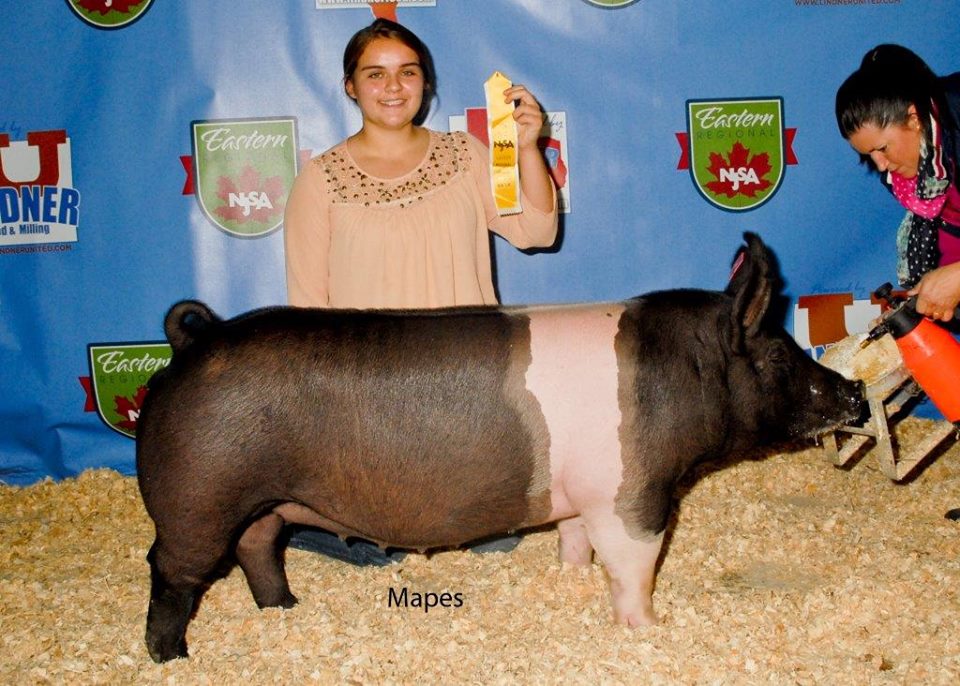 .
March Litter from this girl as well that are off to fantastic start. Inquire at Bids@coolrockstock.com if interested.
---
Lot 19
---
Lot 20