PICK UP WILL BE AVAILABLE 3/31/18 AND by appointment the following week.
PLEASE EMAIL OR CALL TO LET US KNOW.
PAYMENTS ARE CASH OR THROUGH PAYPAL TO STEVE@COOLROCKSTOCK.COM
THERE IS LATE FEBRUARY, MARCH DUROC'S AND FEW OTHER PIGS AVAILABLE AFTER SALE IS OVER. THE TOP END ARE LISTED BELOW.
Refresh page to get most current bids.
All pigs are tagged with USDA RFID compliant 840 tags
All lots pictured below along with terms of sale.
We are super excited to have so many from this line to offer you this year. We stand behind these hogs just as you will in the end and hope you find one to your liking for your son and daughter to show. Showing Dairy or Livestock has been awesome for our family and commend all of our buyers for investing into a quality family bonding experience that everyone can help out with.
We will be available every evening next couple weeks and all day on Friday prior to 5 for you to come view these hogs in person. Pick up can start Saturday into Sunday. Set up appointment to come take a look with Madison at 302-598-2275 or Steve at 302-242-8894
Register for bidders number with Name, Address, drivers license number, and phone number to bids@coolrockstock.com or text 302-242-8894
---
She is a Far Out x Gone Viral x Split Second and has been a solid generator of pigs for us producing last years Champion Crossbred Boar and gilt. She is the grand dam of litter 1 and 2.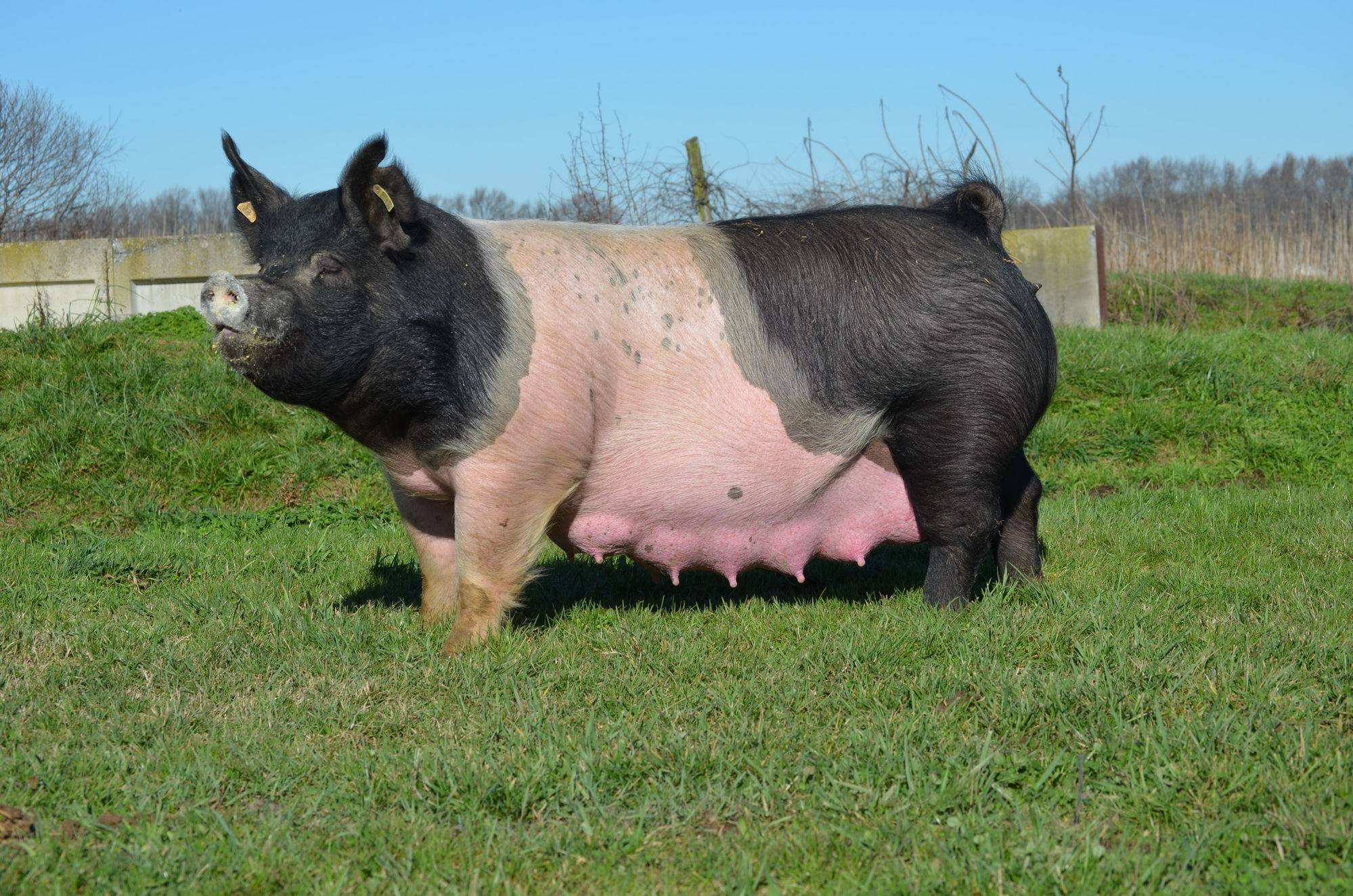 Litter one and two are out of our 2016 mountain time babies from "Dads Pick"
---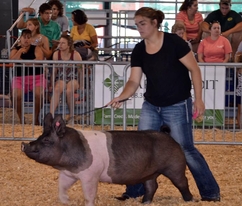 Litter 1: Slug fest x Champion Crossbred Gilt
---
Lot 1 1-1 Gilt 66 Lbs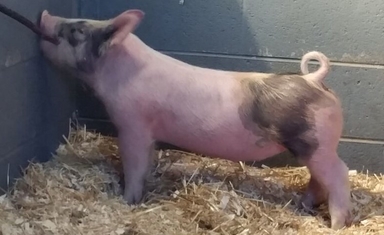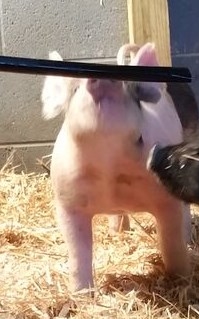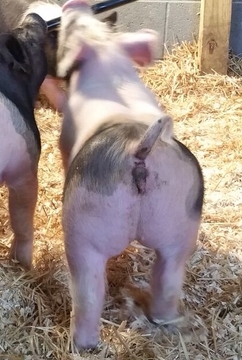 This is a breeding opportunity you don't want to miss out on. A crowd favorite, and not without reason. This eye catching female ties in smooth to her shoulder, she gets wider back into her hip and leaves you with power. The kind that comes at you like a lady but leaves you not wishing for more. This is the kind of skeleton and flexibility that we look for when picking out females. Buy her now and have fun this summer, but the real prize will be sitting behind the crate waiting to see what comes out next year.
---
---
Lot 2 1-2 Gilt 55 lbs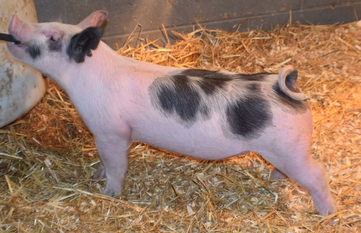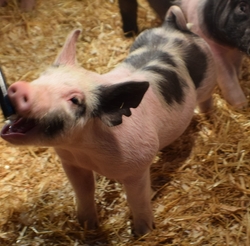 This black and white female will make sure you know shes there as soon as you hit the pen. A tall bladed level spined gilt that plants and pushes with the right kind of flexibilty at this age, I wouldn't be concerned with her holding up structurally. Take her home, keep her fresh, and push her right until showday, she'll bulk up but keep the skeletal correctness that makes her so unique.
---
Lot 3 1-3 Gilt 49 lbs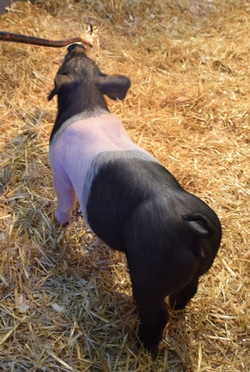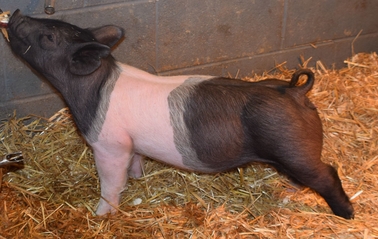 This little gilt may get out horsed by her counterparts, but she is a mighty little one. With the same build and power as those litter mates, this one just needs time to take off on her own, A clean fronted wide made gilt that still offers the comfort at the ground to needed to take on the added weight.
---
Lot 4 1-4 Gilt 66 lbs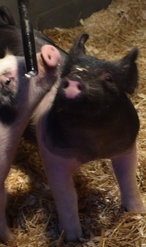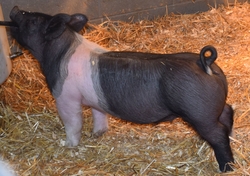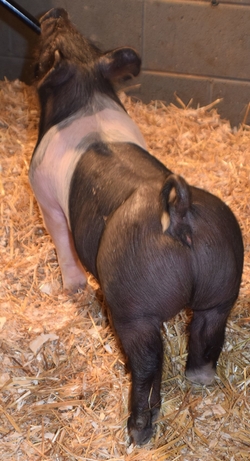 This is a power female of the bunch, one of the bigger gilts that has the shape and width to keep up with the barrows. A long level spined gilt that is sqaure down to her corners, she's got the top shape and power to play at the early jackpots, but the skeleton to hold up until fair time.
---
Lot 5 1-7 barrow 78 lbs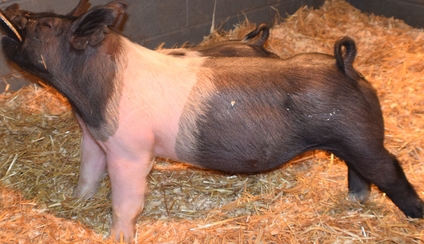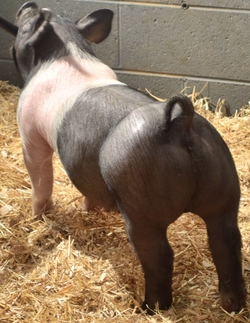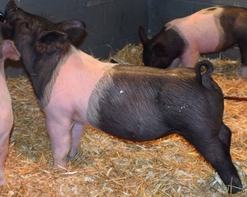 This is the pounds heavy barrow of the barn who is going to be a monster come July. He is wide square down through his chest and leaves with the same advantage. Bold rib, square and expressive back from his blade, and still powerful out of the top of his hip. Feed him along and play with the heavy weights later.
---
Lot 6 1-8 Barrow 65 lbs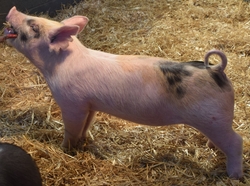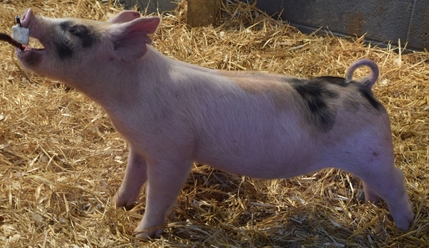 This red barrow like the other reds will give you a flashy look, tall bladed and clean from there forward, level back into his hip. The flashy look that just needs feed and time to pack on the pounds.
---
Lot 7 2-2 Gilt 53 lbs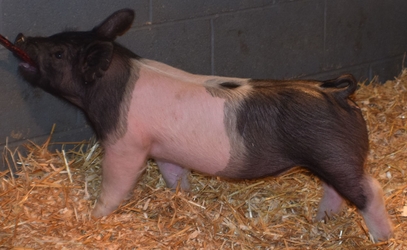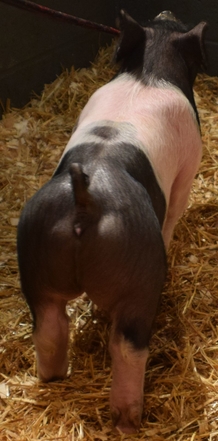 This little gilt may not catch your eye at first glance, but give her a few minutes to warm up and you'll fall in love. Talk about a clean fronted, smooth shouldered female that ties smooth back into her flank, she's still level spined and square hipped. The kind that will feed well and still stay flashy come showday, and with a good showman on the stick, she wont be missed.
---
Lot 8 2-3 Gilt 65 lbs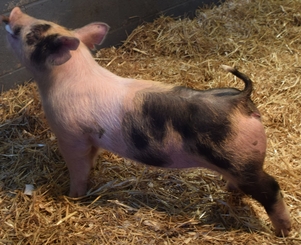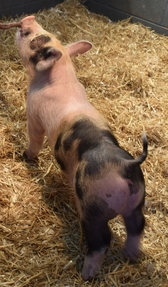 This is a stout skulled big footed female, who's got the rugged build and power to compete in the market classes. Feed her softer and target her for the breed show, and her unique features will certainly make a breeding piece.
---
Lot 9 2-4 Gilt 54 lbs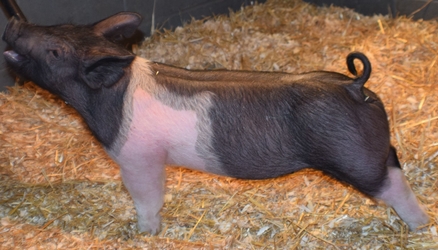 A souter made female who has the added bloom and shape today, she feeds a square and expressive shape out the back of her blade and offers the added turn out of her hip. Uniquely she is still sound and square to the ground, with a look and cockiness that won't be missed.
---
Lot 10 2-5 Gilt 70 lbs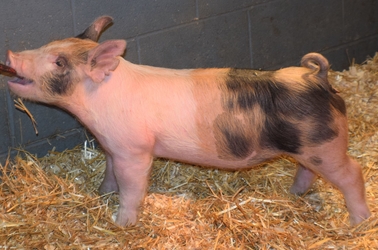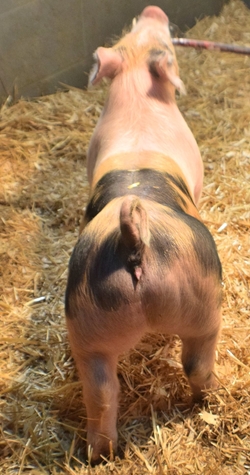 A stout made female that will catch your attention, she's smooth back into her hip and still has the power needed to compete as she goes away. A solid, square made female that should still have the ability to compete in the market classes.
---
Lot 11 Lot 2-6 Gilt 47 lbs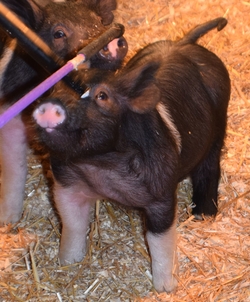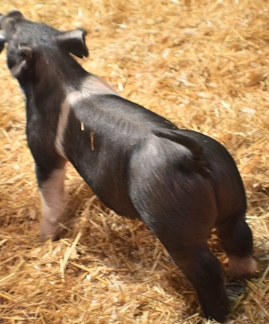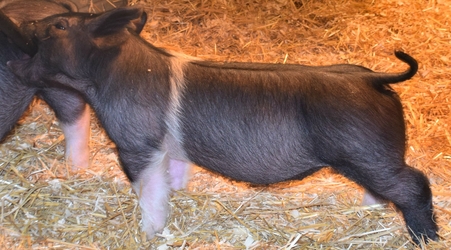 She may not be the biggest but this little girl is an eye catcher. Shes stout skulled and rugged featured, bold ribbed and powerful hipped. Give her the love she craves, the attention she deserves, and she'll compete for you come showday.
---
Lot 12 2-7 Barrow 67 lbs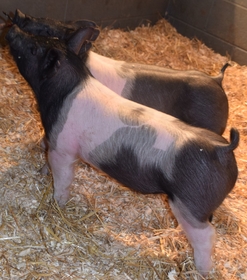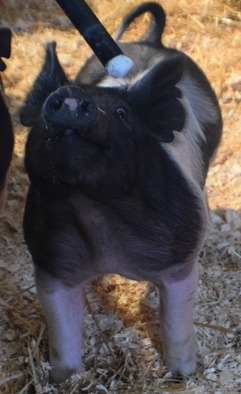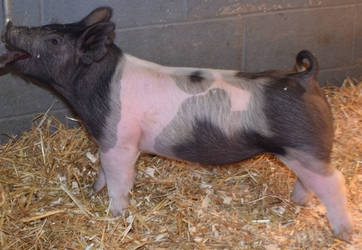 This barrow has been a head turner since day one. His crazy color will grab your attention, but the unique build and power he offers will keep you competing after the first cut. This barrow is tall bladed, good chested, still productive back into his flank. He has plenty of power today but will still have room to take on more as we near showday. Pass up on this one today, and he might just pass you by in July.
---
Lot 13 1-16 Barrow 68 lbs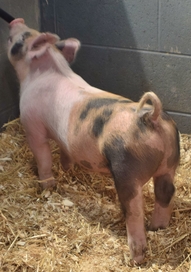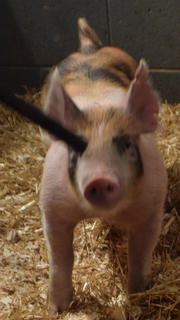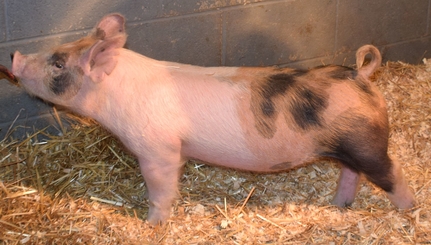 Red barrows are all the craze, but it's more than just a crazy color pattern that this one offers. A stout skull square chested barrow that's wide and level back to his hip. Go ahead and push him into those heavyweight classes, keep him fresh and his build will let you stay competitive.
---
Dam of lot 14,15, and 16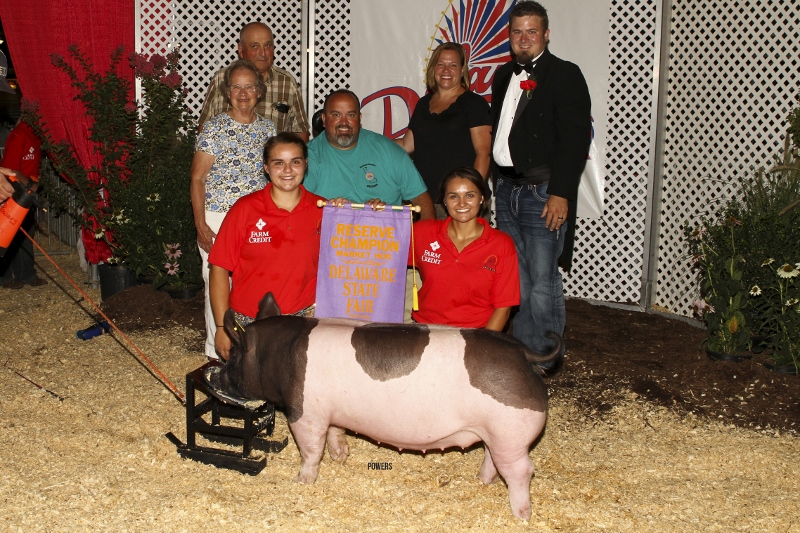 ---
Lot 14 3-2 Gilt 48 lbs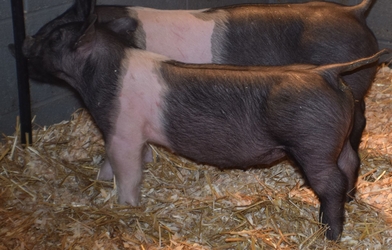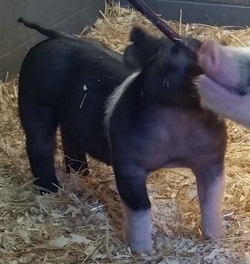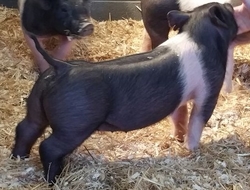 Much like the 2-6 gilt, this one is a stout made square built little girl. To top it off, she ties in right to her blade, and is jet level back into her hip. That soft maternal sweep into her flank but still the power going away that you could feed her for the market classes and coast in at the middlewights.
---
Lot 15 3- 3 Barrow 64 lbs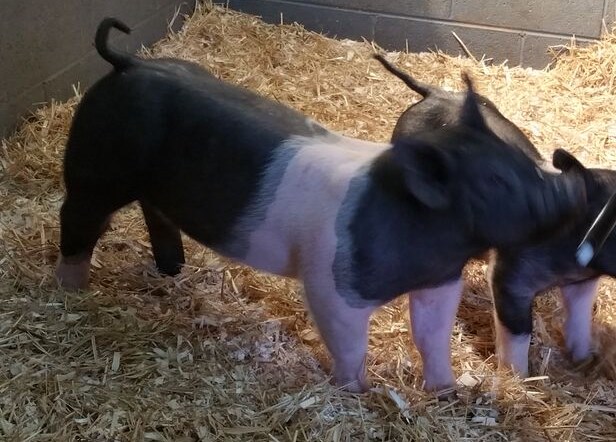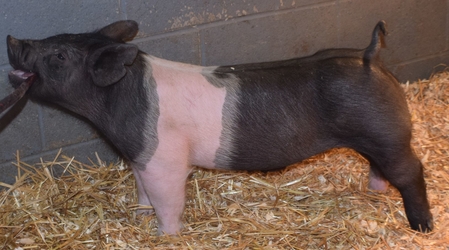 A power, product driven barrow. He is among the widest of the bunch and it's no surprise that he offers one of the squarest and most expressive top shapes of the set. You wont be disappointed as this one goes away, wide down towards his lower ham and still genuinely wide at the ground.
Lot 16 3-5 Barrow 57 lbs
Another power packed Litter 3 Barrow. This fella had one testicle that did not want to drop so we had him worked on up at New Bolton and now that he is healed up we are moving him back into sale line up. Some of you may have missed him when you visited we had him back with the little pigs in recovery. Coming from Vision Quest out of our 2015 Reserve Grand Champion mother who produced the 2016 Reserve Champ at State Fair this fella is on feed and ready to rumble.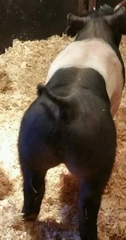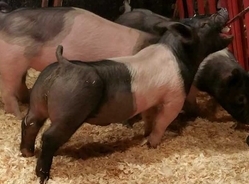 ---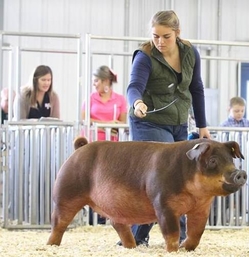 These litter 7 pigs are a little younger born 2-1-18 but they are from Cheap Money gilt we purchased last year from Stookey Show pigs. We bred to the Reserve Champion boar at World Pork Expo "Right One" who stands at Southern Gold.
This gilt wins a very deep class at the NJSA Eastern Regional, came home and was bred that week, went to Delaware Livestock Expo and Wins Grand Duroc, lays down in February and raises a litter of 10 awesome pigs.
---
Lot 17 7-3 Duroc Gilt 30 lbs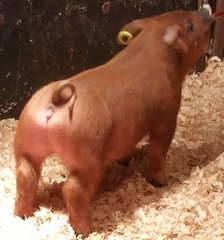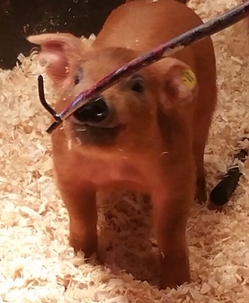 The three gilt is the thicker and further along since weaning of the two gilts we are offering from this litter. No doubt she will get better with age. Being born in February she is eligible for the NJSA Eastern Regional and will likely be just as competitive as her class winning mother and father. .
---
Lot 18 7-7 Barrow 32 lbs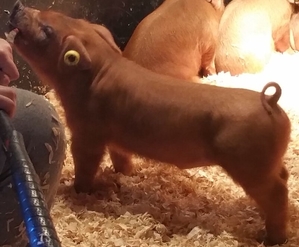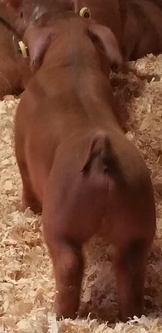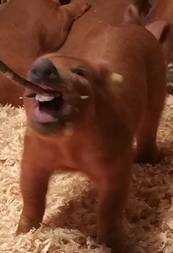 This Barrow is way good and has tremendous power from front to rear. He will be hard to get around in any show but will be truly competitive in a purebred Duroc Show.
Don't pass on him just because he is red, will make weight easily for Delaware with out any holding and will be great for August fairs too.
---
Lot 19 7-8 Barrow 31 lbs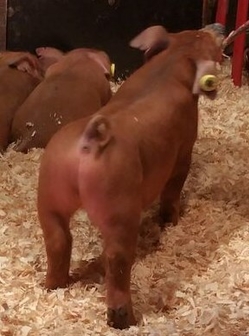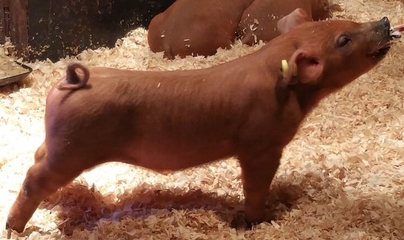 This red barrow comes from a deep litter and is ready to start packing on the weight and get to the ring. There is no doubt this mating is going to work and make some seriously productive hogs for your show season. Get in on these red ones and let the fun begin. They make great showmanship hogs and even better market hogs.
This entire litter is put together extremely well. Stop out and look through them for yourself . We picked the top five but have more at the farm after sale is over.
---
Lot 20 7-12 Barrow 34 lbs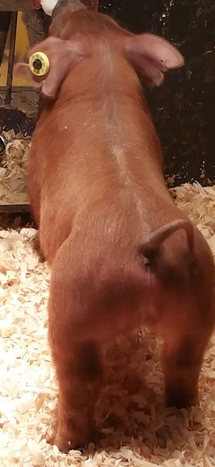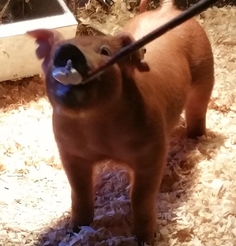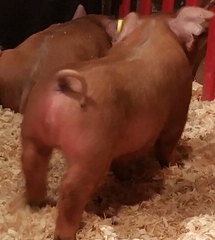 This barrow if the furthest along of the red ones being offered and is showing an awful lot of quality at an early stage. What he may be able to go on and do at a major Duroc show is for you to find out but would not be surprised if he wins it all. Could of kept this one a boar and easily scooped up the Supreme Champion banner but decided it would pay more feed bills to cut him and let someone else have some fun.
Lot 21 7-15 Duroc Gilt 25 lbs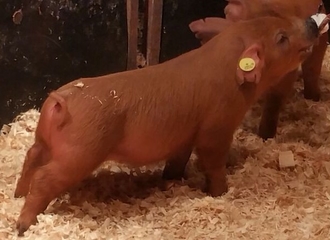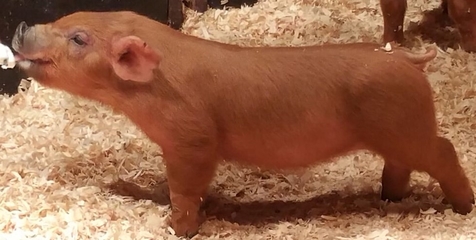 This little gilt has a lot of growing to do but is being offered as a breed pig that comes with a power packed pedigree.
All she needs is feed and little more time to catch up with her big sister and brothers. Will be great for late summer early fall shows and to put into your breeding program next fall. Her mother did an outstanding job.
---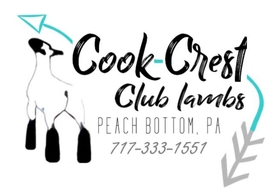 ---
This years lambs are sired by Monkey Business who has produced a record number of winning offspring all over the East and West this past year.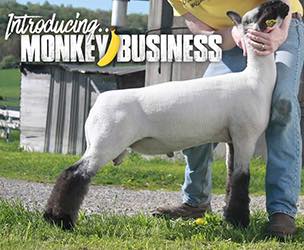 Lot 22 Sired by Monkey Business x Hall 45 x Jedi Born Jan 11
This wether is a little green but he has a good foundation that with feed and time he should come on nice. Lot 21 is level topped and is bold ribbed that should lay the foundation to offer shape and spread up high. Since weaning he has really taken to the feed and is becoming thicker and more powerful everyday.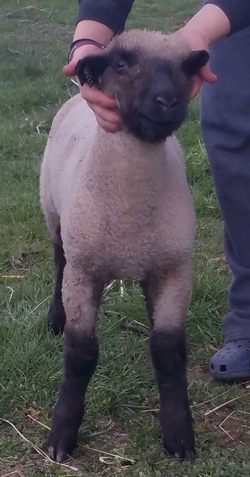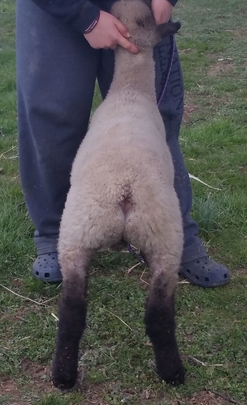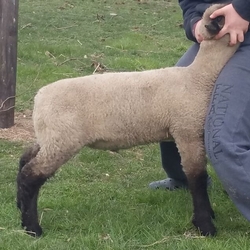 ---
Lot 23 Sired by Monkey Business x Hall 45 x Jedi Born Jan 11
This wether is a twin to lot 21. He is level topped, square in his rump and carries a fuller leg deeper into his twist. We love the way he ties high and neat into his shoulder; giving him the side profile that we are all looking for in the show ring. Don't miss out on this genetically potent Monkey Business son who's best days are ahead.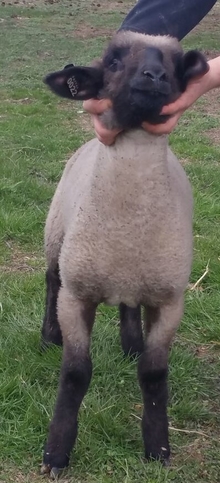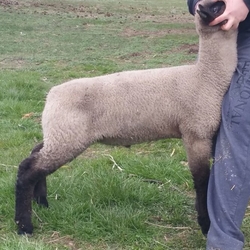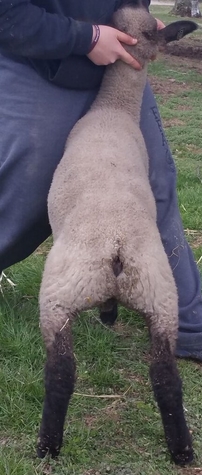 ---
Lot 24 Born Jan 12
Sired by Monkey Business x Super Duty x 90 Proof
WOW! This ewe really gets my blood pumping! She has the extra substance of bone and show ring appeal that makes it really hard to let her go! Naturally upheaded, short bladed, still tucked up in her chest floor, smooth back into her flank and level made, if you are looking for one that will get it done in the show ring and then bring home to breed, this girl provides the genetic package to provide a bright future.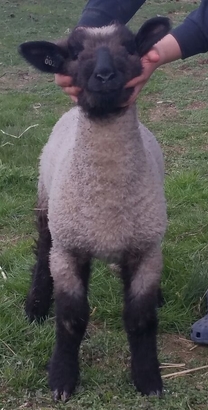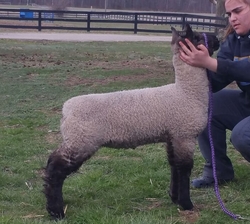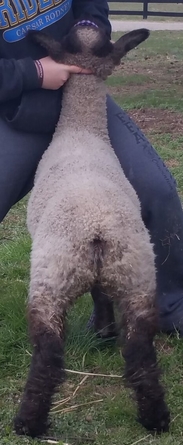 ---
Lot 25
This June steer sired by No surprise from Griswold Cattle company is halter broke and weighing in at 650 Lbs as of 3-17-2018. He is plenty shaggy and would be great for a first year showman. Would need to get pushed pretty good to make Delaware weight limit but would work real well for those late summer/fall shows.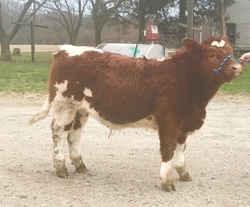 ---
Register at Bids@coolrockstock.com for buyer number or text to 302-242-8894
No buyer premium and accepting payment through cash at pick up or payment prior to delivery or pick up through pay-pal.
Bids will be updated few times a day. Be sure to hit refresh to get most current bids.
All bids will be by email or phone till 6:00 PM March 30th, At that point we will call the top three bidders and have a bid off over the phone.
We will start with highest price pig and work to lowest.
Please be ready will only make two attempts on call.
Please be sure the phone number you have given us is the number you want called as lots close Friday tonight. We will start promptly as possible after the last bids have been recorded that we received prior to 6 PM. Please be sure to bid on any lots you would like to receive call on prior to 6. When the auction closes if you win the bid off you can not get in on pigs you have not bid on. You may only get in on lower pigs upon losing the bid off.
NEW THIS YEAR WE WILL ONLY CALL THE TOP THREE BIDDERS (TOP TWO CONTENDING BIDDER AND HIGH BIDDER) ON EACH LOT.
We have a great set of crossbred and purebred pigs to offer this year. These pigs are right on target for covering the minimum weight requirements for tagging day and State Fair weigh in while still not going over on weigh in day. According to the DE state Fair Website all pigs will need to be 75 pounds by May 5th and or 85 pounds by May 29th in order to be tagged and eligible to attend the DE State Fair. Barrows and crossbred gilts under 200 or over 300 were sent home or to market last year and we assume that is the plan for this year as well. If you are uncertain about how much pigs will gain early on and would like more information refer to this link. http://extension.usu.edu/cache/files/uploads/Project_Pig_Planner.pdf

100% of these girls have been raised -bred-farrowed here at Cook Family Farms from our top 2014-2017 show animals. They all have earned Junior Livestock Auction Honors, Blue Ribbons, or Champion Status at some point of their show career. We picked out sire we thought would work well and mostly ones that had a proven track record of producing winners!
To schedule viewing appointment email us at BIDS@COOLROCKSTOCK.COM OR Call 302-242-8894
Barn will be open 10 am to 4 pm and later if you plan on driving a distance and are taking pigs immediately after close on March 31st for visual inspection of these pigs prior to sale closing.

WILL BE SELLING THE TOP END ONLINE THROUGH PHONE, EMAIL BID WITH ALL LOTS STARTING TO CLOSE AT 6:00pm Friday March 30th. THE HIGHEST DOLLAR AMOUNT LOT WILL BE CLOSED FIRST FOLLOWED BY LOTS OF LESSER AMOUNTS. YOU MUST BE HIGH BID OR TO TWO CONTENDING BIDDERS ON THE LOT IN ORDER TO BE CALLED FOR CLOSING BIDS. IF YOU ARE OUTBID THROUGH CLOSING ON A LOT YOU WILL HAVE THE OPTION TO BID ON ANY REMAINING LOTS.
ALL BIDS WILL BE IN INCREMENTS OF $25.00. AND WILL START AT $150.00
IF YOU WOULD LIKE TO REGISTER FOR A BIDDING NUMBER PLEASE EMAIL YOUR NAME, ADDRESS, AND CONTACT NUMBER TO BIDS@COOLROCKSTOCK.COM. WE ALSO CAN ANSWER ANY QUESTIONS YOU MAY HAVE ON THE BIDDING PROCESS THROUGH THIS EMAIL OR BY CALLING 302-242-8894.
THESE PIGS ARE STILL YOUNG, NOTHING HAS BEEN CLIPPED (hair) OR KEPT IN HEATED BARN. THEY HAVE BEEN WORMED/VACCINATED/CASTRATED AND WILL BE READY TO LEAVE March 31st & MUST BE PICKED UP BY April 6TH.
ALL PIGS IN SALE NOT PAID AND PICKED UP BY APRIL 6TH WILL BE LISTED AS NO SALE AND OWNERSHIP WILL BE RETAINED
DELIVERY IS AVAILABLE AT THE EXPENSE OF THE BUYER.
NO BUYERS PREMIUM OR HIDDEN FEES
THERE WILL BE ABOUT 10-15 PIGS PRICED IN THE BARN THAT WE RAN OUT OF TIME TO PICTURE. BUYERS FROM AUCTION WILL HAVE FIRST PICKS ON GETTING ADDITIONAL PIGS AT PICK UP.
Folks, let me tell you a story....... Feed, time spent walking & working on showmanship, feed (again), and environment you raise these pigs in will be the determining factor on where they end up on show day. Genetically they cover some of the best lines available and come from parents that are all proven winners. We want everyone to have a great show year with these pigs and are willing to help in anyway we can from sharing feeding strategies, to offering showmanship techniques or lessons.
Our success is based around your success!
---
---